Managing Partner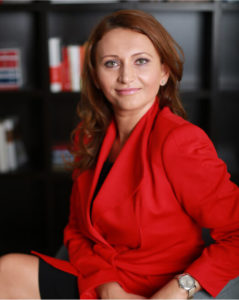 Expertise:
• Accounting and Payroll
• IFRS Reporting
• Financial Planning
• Internal Controls
• Budgeting and Forecasting
• Business Advisory
BARIN Accounting is founded and managed by Anca Bogorin, with more than 18 years of experience in accounting, auditing and financial consultancy for local and foreign companies. Anca is an economist and holds a university degree in Economic Sciences from the University of Sibiu. She is a fellow member of the ACCA, an expert accountant – member of the Romanian Chamber of Chartered and Certified Accountants (CECCAR). Since April 2014, Anca became vice-president of CECCAR in Romania and is a constant speaker on various professional events, including CECCAR Congress, The Forum of Small and Medium Practices held by CECCAR.
Anca's professional background includes 6 years of experience working as auditor with PwC with a focus on International Financial Reporting Standards and Romanian Accounting Standards audits in a wide variety of industries, such as manufacturing, real estate and construction, oil and gas, retail, services, entertainment and media. She has also delivered training on IFRS standards to audit clients.
Anca has gained extensive business experience working as Finance Director of a large international group of companies, where she was responsible for developing the financial strategy, group budgets and forecasts, optimising the internal policies and procedures within the group.
Anca was also partner with TPA Horwath for an 8 year period, where she has coordinated the accounting, tax compliance, payroll and IFRS reporting work, developing a team of more than 30 consultants and conducting complex mergers and spin-off processes, accounting reviews and internal control procedures