BARIN, a well-established financial consulting and tax planning company in Romania, is pleased to announce the appointment of Valentina Radu as a Tax Partner. An experienced professional and former director of PwC Romania, BARIN's new key team member will manage and develop the company's tax practice.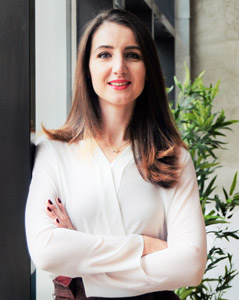 Valentina Radu has a 11-year experience in tax consultancy services on both Romanian and international taxation, with a special focus on VAT matters. She contributed to a wide range of complex assignments for multinational corporations and local companies, including restructuring projects, tax optimisation schemes, due diligence, tax litigation cases, as well as tax reviews and VAT refund assistance.
As a former Director of PwC Romania, Valentina took part in two of the most relevant tax-related infringement cases against Romania at EU Commission level, supporting the leasing industry and debt collection market to defend their EU rights and correctly apply the EU legislation in VAT and accounting matters. Valentina is also a Chartered Tax Advisor with the Tax Consultancy Chamber in Romania since 2013, and holds a diploma of EU indirect taxation from the Institute for Indirect Taxation, UK.
"I am excited to start a new challenge together with the BARIN team. I truly believe that, together, we can build a strong tax and finance advisory practice on the Romanian market, that is able to reach out to foreign and local investors' current needs of being fast and flexible. We'll make this happen by sharing complex knowledge in a simple brief, yet comprehensive manner, while maintaining our high-quality integrated tax and accounting services", Valentina Radu, Tax Partner, said.
About this new appointment in her team, Anca Bogorin, BARIN's Founder and Managing Partner, stated: "Valentina is an outstanding professional and a high quality expert, with a first-class experience in her field. She holds the ideal combination of technical and emotional intelligence skills, which makes her an excellent advisor. We share the same vision and working style, and I trust her appointment as a Tax Partner will further strengthen our advisory services and complement the company's development strategy and growth plan".